MCQs for Biology Class 12 with Answers Chapter 2 Sexual Reproduction in Flowering Plants
Students of class 12 Biology should refer to MCQ Questions Class 12 Biology Sexual Reproduction in Flowering Plants with answers provided here which is an important chapter in Class 12 Biology NCERT textbook. These MCQ for Class 12 Biology with Answers have been prepared based on the latest CBSE and NCERT syllabus and examination guidelines for Class 12 Biology. The following MCQs can help you to practice and get better marks in the upcoming class 12 Biology examination
Chapter 2 Sexual Reproduction in Flowering Plants MCQ with Answers Class 12 Biology
MCQ Questions Class 12 Biology Sexual Reproduction in Flowering Plants provided below have been prepared by expert teachers of grade 12. These objective questions with solutions are expected to come in the upcoming Standard 12 examinations. Learn the below provided MCQ questions to get better marks in examinations.
Question. In a typical complete, bisexual and hypogynous flower the arrangement of floral whorls on the thalamus from the outermost to the innermost is
(a) calyx, corolla, androecium and gynoecium
(b) calyx, corolla, gynoecium and androecium
(c) gynoecium, androecium, corolla and calyx
(d) androecium, gynoecium, corolla and calyx
Question. Seeds are adoptively important because
(a) they maintain dormancy.
(b) they protect young plants during vulnerable stages.
(c) they store food for young plants and facilitate disperal.
(d) All of the above
Question. Choose the correct statement from the following.
(a) Cleistogamous flowers always exhibit autogamy
(b) Chasmogamous flowers always exhibit geitonogamy
(c) Cleistogamous flowers exhibit both autogamy and geitonogamy
(d) Chasmogamous flowers never exhibit autogamy
Question. A dicotyledonous plant bears flowers but never produces fruits and seeds. The most probable cause for the above situation is
(a) plant is dioecious and bears only pistillate flowers
(b) plant is dioecious and bears both pistillate and staminate flowers
(c) plant is monoecious
(d) plant is dioecious and bears only staminate flowers.
Question. In angiosperms, male gametes are formed by the division of
(a) microspore mother cell
(b) microspore
(c) generative cell
(d) vegetative cell
Question. During microsporogenesis, meiosis occurs in
(a) endothecium
(b) microspore mother cells
(c) microspore tetrads
(d) pollen grains.
Question. Which of the following structures are haploid in nature?
(a) nucellus and antipodals
(b) Microspore and antipodals
(c) Egg cell and antipodals
(d) Egg and central cell
Question. From among the sets of terms given below, identify those that are associated with the gynoecium.
(a) Stigma, ovule, embryo sac, placenta
(b) Thalamus, pistil, style, ovule
(c) Ovule, ovary, embryo sac, tapetum
(d) Ovule, stamen, ovary, embryo sac
Question. Starting from the innermost part, the correct sequence of parts in an ovule are
(a) egg, nucellus, embryo sac, integument
(b) egg, embryo sac, nucellus, integument
(c) embryo sac, nucellus, integument, egg
(d) egg, integument, embryo sac, nucellus
Question. From the statements given below choose the option that are true for a typical female gametophyte of a flowering plant.
(i) It is 8-nucleate and 7-celled at maturity
(ii) It is free-nuclear during the development
(iii) It is situated inside the integument but outside the nucellus
(iv) It has an egg apparatus situated at the chalazal end
(a) (i) and (iv)
(b) (ii) and (iii)
(c) (i) and (ii)
(d) (ii) and (iv)
Question. Autogamy can occur in a chasmogamous flower if
(a) pollen matures before maturity of ovule
(b) ovules mature before maturity of pollen
(c) both pollen and ovules mature simultaneously
(d) both anther and stigma are of equal lengths.
Question. Scutellum is
(a) grass embryo
(b) grass seed
(c) grass fruit
(d) grass cotyledon
Question. Dioecy states
(a) unisexuality of a flower
(b) bisexuality of a flower
(c) bisexuality of a plant
(d) unisexuality of a plant
Question. In a cereal grain, the single cotyledon of embryo is represented by
(a) coleoptile
(b) coleorhiza
(c) scutellum
(d) hypocotyl
Question. The most common type of ovule is __________ .
(a) orthotropous
(b) hemitropous
(c) anatropous
(d) campylotropous
Question. Endosperm is generally
(a) diploid
(b) triploid
(c) haploid
(d) polyploid
Question. Filiform apparatus performs the function of
(a) opening the pollen tube
(b) guiding the pollen tube to egg
(c) entry of pollen tube into synergids
(d) prevents growth of more than one pollen tube
Question. Unisexuality of flowers prevent
(a) geitonogamy
(b) autogamy
(c) xenogamy
(d) both geitonogamy and xenogamy
Question. False fruits (thalamus also contributes to fruit formation) are found in
(a) apple and pear
(b) strawberry
(c) cashewnut
(d) All of these
Question. A particular species of plant produces light, non-sticky pollen in large numbers and its stigmas are long and feathery. These modifications facilitate pollination by
(a) insects
(b) water
(c) wind
(d) animals.
Question. From among the situations given below, choose the one that prevents both autogamy and geitonogamy.
(a) Monoecious plant bearing unisexual flowers
(b) Dioecious plant bearing only male or female flowers
(c) Monoecious plant with bisexual flowers
(d) Dioecious plant with bisexual flowers
Question. While planning for an artificial hybridisation programme involving dioecious plants, which of the following steps would not be relevant?
(a) Bagging of female flower
(b) Dusting of pollen on stigma
(c) Emasculation
(d) Collection of pollen
Question. In angiosperms, a functional megaspore develops into
(a) embryo sac
(b) endosperm
(c) ovule
(d) pollen grain
Question. In the embryos of a typical dicot and a grass, true homologous structures are
(a) coleorhiza and coleoptile
(b) coleoptile and scutellum
(c) cotyledons and scutellum
(d) hypocotyl and radicle.
Question. Which of the following statement is incorrect about emasculation?
(a) During emasculation process, stigma is removed.
(b) Emasculated flowers are bagged in order to prevent self-pollination.
(c) Emasculation is the removal of stamens before the maturation of selected bisexual flowers.
(d) It is one of the steps for artificial hybridization.
Question. In a flower, if the megaspore mother cell forms megaspores without undergoing meiosis and if one of the megaspores develops into an embryo sac, its nuclei would be
(a) haploid
(b) diploid
(c) a few haploid and a few diploid
(d) with varying ploidy.
Question. Function of germ pore is
(a) emergence of radicle
(b) absorption
(c) growth of pollen tube
(d) release of male gamete
Question. Anther is typically
(a) tetrasporangiate
(b) bisporangiate
(c) trisporangiate
(d) monosporangiate
Question. The functions of tapetum is to
(a) produce ubisch bodies.
(b) produce pollen grains.
(c) provide nourishment to the developing pollen grains.
(d) store and protect pollen grains.
Question. Microsporogenesis occurs
(a) on margins of leaves.
(b) inside the ovule.
(c) inside the anther.
(d) in essential floral organs
Question. In an embryo sac, the cells that degenerate after fertilisation are
(a) synergids and primary endosperm cell
(b) synergids and antipodals
(c) antipodals and primary endosperm cell
(d) egg and antipodals.
10. Ovule is
(a) megasporangium
(b) megasporophyll
(c) integumented megasporangium
(d) rolled megasporophyll
Question. Filiform apparatus is found in
(a) synergids
(b) anther wall
(c) secondary nucleus
(d) egg cell
Question. Transfer of pollen grains from the anther to the stigma of another flower of same plant is called
(a) geitonogamy
(b) autogamy
(c) xenogamy
(d) cross-pollination
Question. Cleistogamous flowers are
(a) wind pollinated
(b) self-pollinated
(c) cross-pollinated
(d) insect pollinated
Question. The phenomenon observed in some plants wherein parts of the sexual apparatus is used for forming embryos without fertilisation is called
(a) parthenocarpy
(b) apomixis
(c) vegetative propagation
(d) sexual reproduction.
Question. Both chasmogamous and cleistogamous flowers are present in
(a) Helianthus
(b) Lommelina
(c) Rosa
(d) Gossypium
Question. During double fertilization in plants, one sperm fuses with the egg cell and the other sperm fuses with
(a) synergids cell
(b) central cell
(c) antipodal cell
(d) nucellar cell
Question. Nucellar polyembryony is reported in species of
(a) Brassica
(b) Gossypium
(c) Triticum
(d) Citrus
Question. In a fertilised embryo sac, the haploid, diploid and triploid structures are
(a) synergid, zygote and primary endosperm nucleus
(b) synergid, antipodal and polar nuclei
(c) antipodal, synergid and primary endosperm nucleus
(d) synergid, polar nuclei and zygote.++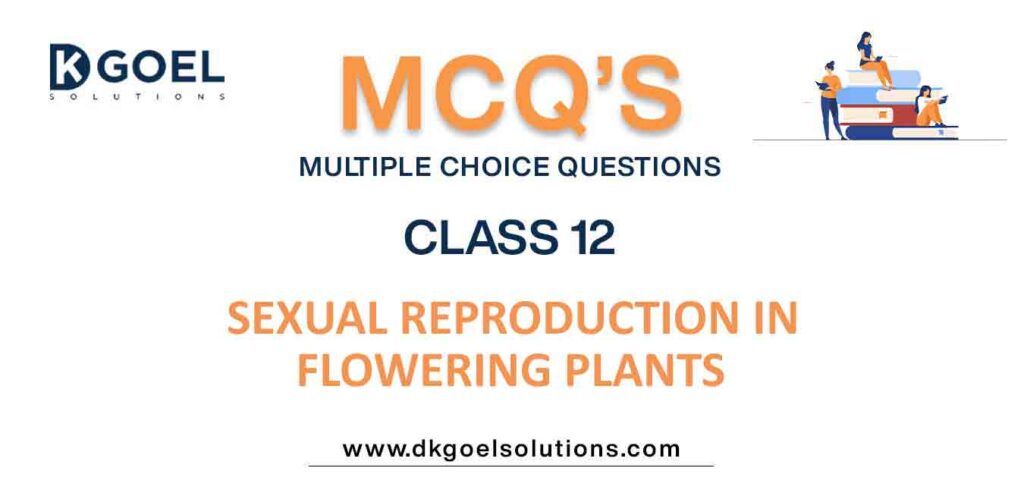 We hope the above multiple choice questions for Class 12 Biology for Chapter 2 Sexual Reproduction in Flowering Plants provided above with answers based on the latest syllabus and examination guidelines issued by CBSE, NCERT and KVS are really useful for you. Sexual Reproduction in Flowering Plants is an important chapter in Class 12 as it provides very strong understanding about this topic. Students should go through the answers provided for the MCQs after they have themselves solved the questions. All MCQs have been provided with four options for the students to solve. These questions are really useful for benefit of class 12 students. Please go through these and let us know if you have any feedback in the comments section.