Sample Paper Class 12 Political Science
Get Class 12 Political Science Sample Papers free pdf download which is based on the latest pattern of CBSE and NCERT. It involves every one of the points given in NCERT class 12 Political Science book. You can easily download sample paper accounts class 12 is given below.
Download 12th Political Science Question paper in PDF free of charge. It will help you to make your preparation better to score higher marks in exams. These Class 12 Political Science Sample Papers PDFs are prepared by our expert teacher.
This 12th Political Science Question Paper PDF assists you with revising the complete chapter in minutes. One of the best tips suggested by teachers is Solving the sample papers during exam time.
We bring here the latest collection of Sample Papers for Class 12 Political Science prepared as per the latest examination pattern issued by CBSE. Students can refer to the latest paper below available with answers and also download the suggested guess papers in PDF format for free. Students should solve the papers in exam type environment at home and then compare their results with the answers provided below. Students should regularly solve questions given in DK Goel Class 12 book and also solve the papers given below
Sample Paper Class 12 Political Science Term 2 Set A
SECTION A
1. Mention some changes that occurred in Maldives.
Answer: (i) Transformed into a republic with a presidential form of government in 1968.
(ii) In June 2005, the Parliament voted unanimously to introduce multi-party system.
(iii) Democracy strengthened after 2005 elections.
OR
Mention two areas of cooperation between India and Bangladesh.
Answer: (i) Economic relations have been improved considerably within last ten years.
(ii) Bangladesh is the part of India's 'Look East' policy to link up with southeast Asia via Myanmar.
(iii) Cooperated on the issues of disaster management and environment.
(iv) Cooperation on identifying common threats and being more sensitive to each other's needs. (any two)
2. What is worldwide interconnectedness? What are its components?
Answer: The worldwide interconnectedness implies to interlink the world through free flow of goods and services, technology,
ideas and people across the globe to extend globalisation. This contains three components:
(i) Capital flow: It is the flow of resources through loans or business investments among the countries.
(ii) Trade flows of goods: It refers to exchange of goods among countries.
(iii) Labour flow: It refers to 'Brain drain' by creating favourable conditions for employment.
3. What are the components of the ASEAN Vision 2020?
Answer: The components of ASEAN Vision 2020 can be summed up as follows:
(i) An outward looking role in international community.
(ii) To encourage negotiations over conflicts in the region.
(iii) To mediate to end the conflicts i.e. Cambodian conflict, East Timor Crisis, annual discussion on East Asian Cooperation through meetings.
4. Mention some other conflicts in South Asia except with that of India.
Answer: (i) Nepal and Bhutan as well as Bangladesh and Myanmar have disagreement over the migration of ethnic
Nepalese into Bhutan and Rohingyas into Myanmar.
(ii) Bangladesh and Nepal bear some differences over the future of Himalayan river water.
5. "Globalisation is a multidimensional concept". Justify the statement.
Answer: Globalisation refers to integration of an economy with the other countries based on interdependence. It is a multidimensional concept having political, economic, cultural manifestations. It is the process of exchange of ideas, capital commodities and people.
6. What was the status of SVD in the new era of coalition?
Answer: The elections of 1967 brought the coalitions when no single party got the majority and joint legislator parties called 'Samyukt Vidhayak Dal' came together to form government to support non-Congress government:
(i) The SVD government in Bihar included two socialist parties—SSP and PSP along-with CPS on left and Jana Sangh on right.
(ii) In Punjab, it was called the popular United Front and comprised the two rival Akali Parties at that time.
7. What factors led to crisis of democratic order in Indian politics?
Answer: (i) Emergence of Indira Gandhi with a lot of popularity.
(ii) Party competitions had been created.
(iii) Relation between the government and judiciary had become tense.
8. What led to the serious debate over secularism? 2
Answer: The demolition of disputed mosque at Ayodhya on 6 December 1992 by Karseva, led to a serious debate over secularism:
(i) Most political parties condemned the demolition and declared it to be against secularism.
(ii) A debate took place about using religious sentiments for electoral purposes.
SECTION B
9. In which four ways did the new economic policy of China benefit its economy?
Answer: (i) Break from stagnation
(ii) Privatisation of agriculture.
(iii) New trading laws and creation of special economic zones.
(iv) High personal savings in the rural economy led to an exponential growth.
10. What are Naxalite movement? Describe its two outcomes.
Answer: The 'Naxalite' movement referred to the Marxist and Leninist Agricultural workers of Andhra Pradesh, West Bengal, Bihar and adjoining areas. They organised massive agitations against economic injustice and inequality and demanded redistribution of land to cultivators.
Two outcomes–
(i) Naxalite movement argued that democracy in India was a shame and decided to adopt a strategy of protracted guerrilla warfare in order to lead to a revolution.
(ii) Naxalite movement used force to snatch land from the rich landowners and provided it to the poor who were landless.
11. In the given outline map of India, four states have been marked as (A), (B), (C), (D). Identify these states on the basis of the information given below and write their correct names in your answer book along with their respective serial number of the information used and the concerned alphabets as per format that follows:
(i) The state where Congress did not get majority in 1967 Assembly polls.
(ii) The state where Congress lost very badly in 1977 Lok Sabha elections.
(iii) The state where anti-Muslim riots took place.
(iv) The state related to Jai Prakash Narayan.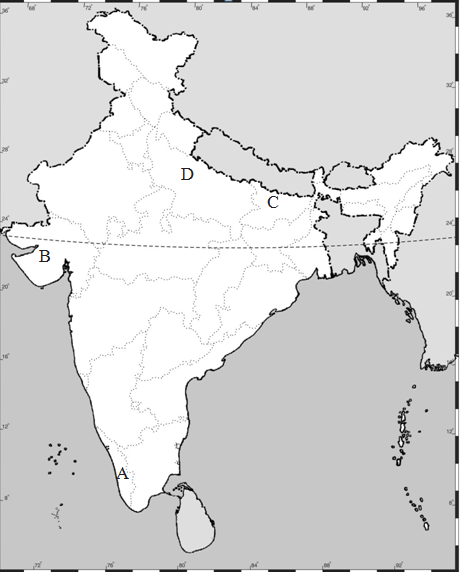 | | | |
| --- | --- | --- |
| Sr. No. of the information used | Corcerned Alphabet in the Map | Name of the State |
| (i) | | |
| (ii) | | |
| (iii) | | |
| (iv) | | |
Answer:
| | | |
| --- | --- | --- |
| Sr. No. of the information used | Corcerned Alphabet in the Map | Name of the State |
| (i) | A | Kerala |
| (ii) | D | Uttar Pradesh |
| (iii) | B | Gujara |
| (iv) | C | Bihar |
SECTION C
12. Why is the EU considered a highly influential regional organisation in the economic, political and military fields?
Answer: Because – Economic Influence:
(i) Three times larger share in World trade than the US.
(ii) Its currency Euro can pose a threat to the dominance of US Dollar.
(iii) The EU functions as an important bloc in World Trade Organisation (WTO).
Political Influence:
(i) Two members of the EU, Britain and France hold permanent seats in Security Council to influence UN policies.
(ii) The EU also includes various non-permanent members of UNSC.
(iii) The European Union plays an influential role in diplomacy and negotiations except military force i.e. EU's
dialogue with China on Human Rights and environmental degradation is remarkable. Military Influence:
(i) The EU's combined armed forces are second largest in world.
(ii) Its total military expenditure is second to the US.
(iii) Its two important members—Britain and France also experience nuclear arsenals of 550 nuclear warheads.
(iv) The EU is world's second most important source of space and communication technology.
OR
How are the external powers influencing bilateral relations in South Asia? Take any one example to illustrate your point.
Answer: The external powers influence bilateral relations in South Asia because no region exists in the vacuum. It is influenced
by outside powers and events no matter how much it may try to insulate itself from non-regional powers:
(i) China and the US remain key players in South Asian politics.
(ii) Sino-Indian relations have improved significantly in the last ten years, but China's strategic partnership with Pakistan remains a major irritant.
(iii) The demands of development and globalisation have brought the two Asian giants closer and their economic ties have multiplied rapidly since 1991.
(iv) The US enjoys good relations with both India and Pakistan and works as a moderator in Indo-Pak relations.
(v) Economic reforms and liberal economic policies in both the countries have increased the depth of American participation.
(vi) The large South Asian economy remains in the US and the huge size of population and markets of the region give America an added stake in the future of regional security and peace.
13. Discuss the role of Jaya Prakash Narayan in Bihar movement and national politics. 
Answer: (i) Loknayak Jaya Prakash Narayan from the Janata Party was a Marxist of youth, who became a Gandhian and involved himself in a Bhoodan movement.
(ii) He led Bihar movement and opposed the emergency.
(iii) Bihar students invited him and he accepted on the condition of movement to be non-violent and not to limit only to Bihar territory. Hence, Bihar movement assumed a political character and national appeal.
(iv) This movement demanded dismissal of the Congress government in Bihar and called for total revolution in social, economic and political aspects to establish a total democracy.
(v) Bandhs, gheraos, strikes were organised in protest. Even employees of railways organised a strike which threatened to paralyse the country.
(vi) In 1975, the Janata Party led people's march to the Parliament to be one of the largest political rallies ever held in capital.
(vii) The Janata Party was supported by the non-Congress parties like BJS, socialist parties, etc., which projected Jaya Prakash Narayan as an alternative to Indira Gandhi.
OR
What was Mandal Commission? Describe its recommendations.
Answer: The Mandal Commission under the chairmanship of Bindeshwari Prasad Mandal set up in 1978 to investigate the extent of educational and social backwardness among various sections of society and recommended way to identify these classes.
The Mandal Commission gave its recommendations in 1980:
(i) The Commission advised that backward classes should be understood to mean backward castes since many castes other than the SCs were also treated as low in caste hierarchy.
(ii) Reservation 27% seats in educational institutions and government jobs for these groups.
(iii) It recommended land reforms to improve the condition of OBCs.
(iv) Hence, Mandal Commission made recommendations in economic and occupational structures.
The Government of India accepted recommendations in 1990:
(i) 27% jobs reservation has been made in central and state government.
(ii) Many welfare schemes have also been launched as Swarnima National Backward Classes Finance and Development Corporation.