MCQs for English Class 10 with Answers Chapter 6 Making of a scientist
Students of class 10 English should refer to MCQ Questions Class 10 English Making of a scientist with answers provided here which is an important chapter in Class 10 English NCERT textbook. These MCQ for Class 10 English with Answers have been prepared based on the latest CBSE and NCERT syllabus and examination guidelines for Class 10 English. The following MCQs can help you to practice and get better marks in the upcoming class 10 English examination
Chapter 6 Making of a scientist MCQ with Answers Class 10 English
MCQ Questions Class 10 English Making of a scientist provided below have been prepared by expert teachers of grade 10. These objective questions with solutions are expected to come in the upcoming Standard 10 examinations. Learn the below provided MCQ questions to get better marks in examinations.
Question. How old was Ebright when he discovered the theory on how cells work?
(a) Twenty-two
(b) Thirty-two
(c) Forty-two
(d) Fifty-two   
Question. What is the blueprint for life?
(a) Cells
(b) Blood
(c) Nerves
(d) DNA   
Question. What opened the world of science of Ebright?
(a) His fascination for birds
(b) His fascination for dinosaurs
(c) His fascination for butterflies
(d) His fascination for cats   
Question. Where did Richard Ebright grow up?
(a) Seattle
(b) Washington
(c) Reading
(d) Austin   
Question. What was Ebright's hobby as a child?
(a) Playing basketball
(b) Collecting things
(c) Reading books
(d) Watching cartoons   
Extract Based Questions :
1. Read the given extracts to attempt the questions that follow:
From the first he had a driving curiosity along with a bright mind. He also had a mother who encouraged his interest in learning. She took him on trips, bought him telescopes, microscopes, cameras, mounting materials, and other equipment and helped him in many other ways. "I was his only companion until he started school," his mother said. "After that I would bring home friends for him. But at night we just did things together. Richie was my whole life after his father died when Richie was in third grade."
Question. During his early years, the person who promoted Ebright's curiosity in science was:
(a) his father
(b) his mother
(c) his teacher
(d) his friend 
Question. Which of the following statements is not true?
(a) In kindergarten, Richard collected butterflies.
(b) Richard collected coins, fossils and rocks.
(c) His father helped him in his research activities.
(d) He could not involve in sports as a child. 
Question. Richard Ebright's research during his childhood focussed on
(a) Grasshoppers
(b) Butterflies
(c) Ants
(d) Birds 
Question. Richard's childhood activities helped him to become a/an:
(a) scientist
(b) historian
(c) actor
(d) sportsman 
Question. By buying Richard microscopes and telescopes, his mother promoted in him:
(a) scientific curiosity
(b) an interest in history
(c) an interest in sports
(d) an interest in psychology 
2. Read the given extracts to attempt the questions that follow:
So the next step for Ebright was to raise a flock of butterflies. He would catch a female monarch, take her eggs, and raise them in his basement through their life cycle, from egg to caterpillar to pupa to adult butterfly. Then he would tag the butterflies' wings and let them go.
Question. Ebright started raising:
(a) a flock of ants
(b) a flock of moths
(b) a flock of butterflies
(d) a flock of houseflies 
Question. In the extract the collective noun 'flock of butterflies' has been used. Which of these options DOES NOT indicate a valid collective noun.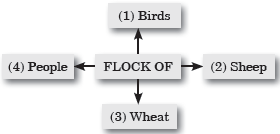 (a) Option (1)
(b) Option (2)
(c) Option (3)
(d) Option (4)   
Question. What was the aim of tagging butterflies?
(a) To study growth of butterflyies
(b) To study migration of butterflyies
(c) to collect various samples of butterflies
(d) None of these   
Question. Ebright would tag the butterflies:
(a) legs
(b) feelers
(c) wings
(d) body 
Question. The life cycle of butterflies starts from:
(a) eggs
(b) cells
(c) pupa
(d) adult 
3. Read the given extracts to attempt the questions that follow:
Beginning in kindergarten, Ebright collected butterflies with the same determination that has marked all his activities. He also collected rocks, fossils and coins. He became an eager astronomer too, sometimes star-gazing all night.
Question. Ebright started collecting butterflies when he was in:
(a) high school
(b) kindergarten
(c) middle school
(d) primary school 
Question. What is the meaning of 'astronomer'?
(a) A book lover
(b) A sky lover
(c) An animal lover
(d) A star gazer 
Question. Who encouraged Ebright in learning?
(a) His father
(b) His mother
(c) His friend
(d) None of them   
Question. He also became an eager:
(a) astrologer
(b) biologist
(c) astronomer
(d) zoologist   
Question. What quality of his character is reflected in the above extract?
(a) His curiosity
(b) His carelessness
(c) His love for books
(d) Obedience to mother