Notes Chapter 6 The Browning Version
Get The Browning Version Class 11 Notes PDF Download, which is based on the latest pattern of CBSE and NCERT. It involves every one of the points given in NCERT class 11 English book. You can easily download these Class 11 The Browning Version Notes given below.
Download CBSE Class 11 The Browning Version Notes in PDF free of charge. It will help you to make your preparation better to score higher marks in exams. These The Browning Version notes are prepared by our expert teachers.
The Browning Version Class 11 notes assist you with revising the complete chapter in minutes. One of the best tips suggested by teachers is revising the notes during exam time.
Class 11 commerce students can refer to Chapter 6 The Browning Version notes given below which is an important chapter in the class 11 English book. These notes and important questions and answers have been prepared based on the latest CBSE and NCERT syllabus and books issued for the current academic year. Our team of English teachers has prepared these notes for class 11 English for the benefit of students so that you can read these revision notes and understand each topic carefully.
The Browning Version Notes Class 11 English
Refer to the notes and important questions given below for The Browning Version which is really useful and has been recommended by Class 11 English teachers. Understanding the concepts in detail and then solving questions by yourself will help you to learn all topics given in your NCERT Books.
It is an extract from the play The Browning Version written by Terence Rattigan which is focused on a good but unpopular school teacher Mr Crocker Harris. It vividly brings about the agony of a dedicated teacher who has a strict attitude towards his students. Frank – young teacher, Crocker Harris- old teacher, Taplow-a boy of sixteen.

Crocker Harris
Different kind of teacher
Strict disciplinarian, hard working and fully devoted to his duties.
does not tell his students their results before the last day of the term. Taplow had asked Mr. Crocker-Harris about his remove and in response the teacher told him that he has given Taplow exactly what he deserves – "No less; and certainly no more".
Frank admits envying Mr. Crocker-Harris for the effect he has on his students.
He is not the sort of a person who would beat students and vent out his frustration on students.
He is hard like a nut all shrivelled up.Never respond to feelings shown by the students.
Taplow admits that in spite of all this, he likes Mr. Crocker-Harris.
Taplow
A boy of sixteen.
Came to school to do extra work for Crocker Harris as he had missed a class a week ago.
He dislikes the play Agamemnon and is more interested in science.
He is a good mimic as he imitates Croker Harris's voice and style very well.
Liked Crocker Harris even though he was a strict teacher.
He does not consider him a sadist. He admires Crocker Harris.
He does not want to make Crocker Harris angry by displeasing him in any manner.
When Frank suggests him that he could play and come back as there are very bleak chances of Crocker Harris's coming, he refuses to do so.
Frank
Frank is a young teacher.
He shows a better understanding of student behaviour and psychology.
He is humble towards his students.
He has a friendly attitude towards his students. His conversation with Taplow shows that Taplow is very comfortable discussing the matter with him.
Even though Frank is easy in his attitude, he is not of the kind who will appreciate sarcasm on fellow teachers.
He quickly points out to Taplow when he get too carried away mocking Crocker- Harris. When Frank and Taplow were talking, Millie, the wife of Mr. Crocker-Harris arrives there and sends Taplow to a chemist's shop with a prescription.
Short Answer Questions
Question. What subjects does Taplow want to opt for? Why?
Ans. Taplow feels if his grades are good, he would opt for science. He feels science is more interesting than the study of classics.,
Question. Who was Millie? What did she tell Taplow?
Ans. Millie was Mr., Crocker's wife. She total Taplow that her husband was at the Bursar's's. It could take him a lot of time. Thus she told him indirectly that he could go and play.
Question. Where did Taplow meet Frank?
Ans. Taplow had been asked to do some extra work by Mr. Cracker Harris. He was waiting for the teacher in the school. Frank also came there and met Taplow.
Question. How does Taplow react to Millie's arrival?
Ans. Taplow is nervous. He is unable to control his emotions and whispers to Frank if he thinks she has heard their conversation. Taplow feels that if she tells Mr. Crocker Harris, he would lost his form.
Question. Why doesn't Taplow agree with Frank in calling Cracker a "Sadist"?
Ans. Frank calls cracker a radist because he gets after his students. But Taplow says after he understands he meaning of the word 'sadist' that cracker was much more than that. He was a feelingness person who was like a shrivelled-up nut. He hated to be liked and behaved in a strange manner with his students.
Question. What do you gather about Mr. Frank from the play?
Ans. Mr. Frank is a young science teacher. He does n't like the subject the teaches. He also admits that he tells the results to the students before it is officially announced by the head master. He feels envious of cracker Harris because Taplow likes him.
Question. Why did Crocker-Harris not disclose the results like the other teachers?
Ans. It was a rule that results would be announced by the headmaster alone. The other teachers didn't care for this rule. But Gocker-Harris was a man of principles. He never disclosed the results like the other teachers.
Question. What is Taplow's attitude towards Mr. Crocker Harris?
Ans. Taplow is respectful towards Mr. Crocker Harris and likes him even though he is afraid of him, and dare not cut the extra work even on the last day of the term.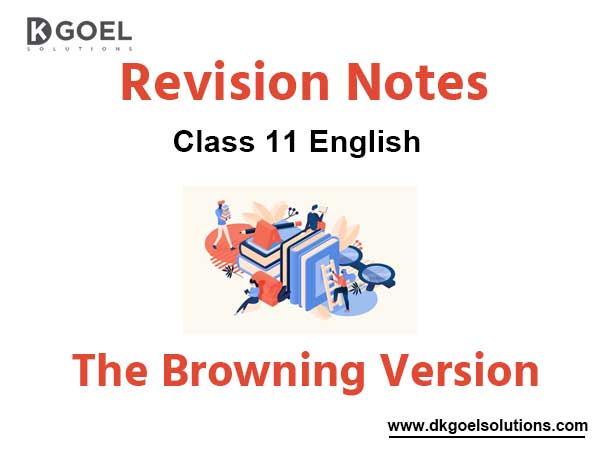 Students Who Practice these Class 11 The Browning Version will observe that each concept is depicted in a clear way including the equations, formula, diagram, important questions, and MCQs.
You can also download other study materials like Sample papers, MCQ Questions, NCERT Solutions, NCERT Book, Unseen Passage, and HOTs Questions for Class 11 English on our website.
We hope these notes will help you to score good marks in your exam. If you have any doubt in regard to The Browning Version Class 11 notes, write a comment in the box given below.