VBQs Class 12 Biology Environmental Issues
Very Short Answer Type Questions
Question. Name the greenhouse gases that contribute to total global warming.
Answer : Nitrous oxide (N2O), chlorofluorocarbon (CFC), methane (CH4), carbon dioxide (CO2).
Question. Name two gases contributing the maximum to the green house effect.
Answer : Carbon dioxide (40%) and methane (20%) are the two gases which are contributing the maximum to green house effect.
Question. Write the unit used for measuring ozone thickness.
Answer : Dobson unit (DU).
Question. How does Jhum cultivation promote deforestation ?
Answer : In Jhum cultivation the farmers cut down the trees of the forest and burn the plant remains. The ash is used as a fertilizer, and the land is used for farming or cattle grazing. After cultivation, the area was left for several years so as to allow its recovery but with increasing population, and repeated cultivation,
the recovery phase in Jhum cultivation has been done away, resulting in deforestation.
Short Answer Type Questions
Question. What is a 'green house' effect ? How is this phenomenon used for growing plants especially in winter ?
Answer : The green house effect is a naturally occurring phenomenon that is responsible for heating of earth and atmosphere. Green house gases like CO2 absorb the infrared radiation of the sun and prevent it from escaping.
A green house which is like a small glass house is used for growing plants during winter as it provides the appropriate temperature to the plants, as the glass also prevents the IR radiation from escaping thereby increasing the temperature inside.
Question. Why are the environmentalists worried about the considerable increase in the level of green house gases? List the different greenhouse gases other than carbon dioxide.
Answer : Increase in the level of green house gases has led to heating of earth leading to global warming/ melting of glaciers/ rise in sea level that can flood the coastal areas. (Any two) Greenhouse gases other than CO2 are:
Methane (CH4), Chlorofluorocarbon(CFCs), Nitrous oxide (N2O).
Question. (i) Rearrange the following greenhouse gases in increasing order of their relative contribution to the total global warming :
N2O, CFC; CO2; C2H4
(ii) What is the effect of global warming on polar icecaps ? Comment on its possible ecological impact.
Answer : (i) C2H4→ N2O→ CFC→ CO2/N2O→ CFC→CH4→ CO2 (Highest)
(ii) (Global warming) → Rise in Atmospheric temperature → polar ice melts → increase in sea level → coastal land mass submerge.
Question.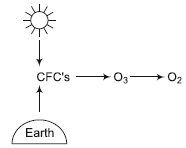 (i) Expand CFC.
(ii) How does it reduce ozone to oxygen ?
Answer : (i) Chlorofluorocarbon.
(ii) CFC move upward and reach stratosphere.
UV-rays act on them releasing Cl atom due to which ozone degrades releasing molecular oxygen.
Question. List four benefits on human life by eliminating the use of CFCs.
Answer : (i) Delay in ageing of skin
(ii) Prevent damage to skin cells
(iii) Prevent skin cancer
(iv) Prevent snow blindness / inflammation of cornea
(v) Prevent cataract
(vi) Prevents ozone depletion
(vii) Prevents global warming
(viii) Reduces greenhouse effect
(ix) Reduces odd climatic changes or El Nino effect
Question. Justify the need for signing of Montreal Protocol by the participating nations.
Answer : (i) Observing the deleterious affects of ozone depletion the Montreal Protocol was signed to control emission of ozone depleting substances / for reducing emission of CFCs and other ozone depleting chemicals.
(ii) Protocols have laid down definite road maps for developed and developing countries
Question. The figure given below shows the relative contribution of four green house gases to global warming.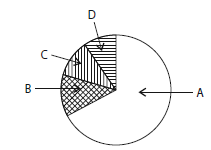 (i) Identify the gas A & C.
(ii) Why are these four gases called the green house gases.
Answer : (i) A — CO2 (60%)
B — CH4 (20%)
C — CFCs (14%)
D — N2O (6%)
(ii) These four gases are called greenhouse gases because the molecules of their gases absorb major fraction of infrared radiation emitted by earth and radiate it back ,thus heating up the earth's surface ,causing greenhouse effect.
Question. How do human activities cause desertification.
Answer : Unrestricted grazing, over cultivation, poor irrigation practices etc. are the human activities which usually result in small arid patches of land.
When these barren patches of land extend and remain unattended for a long time, a desert is formed i.e. the desertification is caused.
Question. What is ozone shield and why is it important ?
Name the gases that cause stratospheric ozone depletion.
Answer : Ozone shield is a part of stratosphere in which the concentration of ozone is very high. It is called as ozone shield because it prevents the sun's UVradiations entering the earth atmosphere. In this
way it protects the living beings from harmful effects of these radiations. Stratospheric ozone depletion results in the impairment of photosynthetic machinery in green plants, which increases CO2 concentration and result in global warming and skin cancer and cataract in humans.
CFCs and CH4 gases cause damage to ozone shield.
Long Answer Type Questions
Question. (i) What depletes ozone in the stratosphere ?
How does this affect human life ?
(ii) Explain biomagnification of DDT in an aquatic food chain. How does it affect the bird population ?
Answer : (i) Chlorofluorocarbons (CFCs) are added to the stratosphere, which have a permanent and continuing effect on ozone levels. This leads to the depletion of ozone layer.
Ozone depletion causes UV radiations to increase about 10%, which results in various diseases including skin cancer and eye disease.
(ii) Biomagnification means increase in concentration of toxic waste at successive trophic levels of DDT. Biomagnification of DDT at an aquatic food chain causes the increase in concentration of DDT at successive trophic levels:
Water (0.003 ppm) → Zooplankton (0.04 ppm) →Small fish (0.5 ppm) → Large fish (2 ppm)→ Fish eating birds (25 ppm)DDT interferes the eggshell formation in many birds. It causes premature breaking of eggshells, eventually causing decline in bird populations.
Question. (i) Write the percentage of land area that was covered by forests by the end of the last century.
(ii) Describe any two practices that led to deforestation.
(iii) State the consequences of deforestation.
(iv) Suggest a method to overcome deforestation.
Answer : (i) 19.4%
(ii) (a) Trees are axed for timber / firewood / land for industrial requirement
(b) Slash and burn agriculture
(c) Habitat loss and fragmentation – clearing of forest land into grass land for raising cattle.
(iii) (a) Deterioration of our environment in terms of air, water and soil quality.
(b) Causes loss of biodiversity.
(c) Disturbance in hydrological cycle / biogeochemical cycle
(iv) Reforestation or any other appropriate alternative