MCQs for Biology Class 11 with Answers Chapter 8 Cell The Unit of Life
Students of class 11 Biology should refer to MCQ Questions Class 11 Biology Cell The Unit of Life with answers provided here which is an important chapter in Class 11 Biology NCERT textbook. These MCQ for Class 11 Biology with Answers have been prepared based on the latest CBSE and NCERT syllabus and examination guidelines for Class 11 Biology. The following MCQs can help you to practice and get better marks in the upcoming class 11 Biology examination
Chapter 8 Cell The Unit of Life MCQ with Answers Class 11 Biology
MCQ Questions Class 11 Biology Cell The Unit of Life provided below have been prepared by expert teachers of grade 11. These objective questions with solutions are expected to come in the upcoming Standard 11 examinations. Learn the below provided MCQ questions to get better marks in examinations.
Question. An improved model of the structure of cell membrane was proposed by Singer and Nicolson in…. , widely accepted as…..
(a) 1959, Fluid mosaic model
(b) 1900, Lipoidal model
(c) 1938, Unit membrane model
(d) 1972, Fluid mosaic model
Question. In eubacteria, a cellular component that resembles eukarotic cell is :-
(a) Plasma membrane
(b) Nucleus
(c) Cytoskelton
(d) Cell wall
Question. Membrane bound vesicular structures formed by the process of packaging in the Golgi apparatus and filled with hydrolytic enzymes, are called :-
(a) Vacuoles
(b) Transitional vesicles
(c) Lysosomes
(d) Centrosome
Question. Mitochondria :-
(i) are easily visible under the microscope(without specifically stained)
(ii) are typically sausage-shaped or cylindrical
(iii) are double membrane bound structures
(iv) have two aqueous compartments
(a) (i), (iv) correct and (ii), (iii) incorrect
(b) (i), (ii) correct and (iii),(iv) incorrect
(c) (i)incorrect and (ii), (iii), (iv) correct
(d) (i), (iv) incorrect and (ii), (iii) correct
Question. The detailed structure of the cell membrane was studied only after the advent of electron microscope in the year :-
(a) 1931
(b) 1913
(c) 1950
(d) 1973
Question. According to fluid-mosaic model, the quasi-fluid nature of…………enables lateral movement of…………..within the overall bilayer. This ability to move within the membrane is measured as its…
(i) Carbohydrates
(ii) Lipids
(iii) Proteins
(iv) Fluidity
(v) Selective permeability
Correct sequence is :-
(a) ii, iii, iv
(b) iii, i, iv
(c) iii, ii, v
(d) i, ii, iv
Question. Inner mitochondrial membrane forms infoldings called :-
(a) Thylakoid
(b) Cisternae
(c) Oxysomes
(d) Cristae
Question. Interphase nucleus has a loose and indistinct network of nucleoprotein fibres called chromatin, but during different stages of cell division, cells show "structured chromosomes" in place of the:-
(a) Nucleus
(b) Nucleosome
(c) Solenoid
(d) Plasmosome
Question. Main arena of cellular activities in both plant and animal cells is :-
(a) Nucleus
(b) Cell organelles
(c) Cytoplasm
(d) Centriole
Question. Peptide bond synthesis in cytoplasm of cell takes place on :-
(a) Chloroplast
(b) Mitochondria
(c) Chromoplast
(d) Ribosomes
Question. Which type of solutes may move across plasma membrane from higher to lower concentration along concentration gradient without of help of transmembrane proteins?
(a) Positively charged solutes
(b) Negatively charged solutes
(c) Neutral solutes
(d) Any of the above
Question. What is the orientation of centrioles in centrosome?
(a) Parallel
(b) Perpendicular
(c) Oblique
(d) None of the above
Question. Regarding to endoplasmic reticulum which of the following statement is wrong –
(a) ER divides the intra cellular space into two distinctcompartments
(b) RER frequently observed in cells actively involvedin secretion
(c) In animals steroidal hormones are synthesized inRER
(d) SER is the major site of lipid synthesis
Question. Cristae are found in :-
(a) Golgi apparatus
(b) ER
(c) Both a and b
(d) Mitochondria
Question. Who proposed "Omnis cellula e cellula" ?
(a) Robert Hooke
(b) Rudolf Virchow
(c) Schwann
(d) Anton Von Leeuwenhoek
Question. (i) Granular structure
(ii) First observed under the electron microscope as dense particles by George Palade
(iii) Composed of RNA and proteins
(iv) Not surrounded by any membrane
Above given all statements are true for which cell organelle ?
(a) Nucleolus
(b) Ribosomes
(c) Cristae
(d) Chloroplast
Question. Algal cell wall is made of :-
(a) Cellulose, hemicellulose and pectin
(b) Cellulose, galactans, mannans and minerals
(c) Hemicellulose and xylan
(d) Cellulose, Hemicellulose, protein and pectin
Question. Term "chromatin" was given by Flemming, after staining of nucleus with…..dyes :-
(a) Acidic
(b) Basic
(c) Neutral
(d) Both (b) and (c)
Question. Basic unit of life is :-
(a) Cell
(b) Tissue
(c) Organ
(d) Organ system
Question. Mark the incorrect match for transport of molecules across the membrane :-
(a) Neutral solute – simple diffusion
(b) Water – osmosis
(c) Non polar molecules – facilitate diffusion
(d) ATP utilized – active transport
Question. Find out the incorrect statement about secondary constriction –
(a) Non staining
(b) Constant position
(c) Known as satellite
(d) Present in some chromosomes
Question. In r-RNA, "r" stands for :-
(a) Ribophorins
(b) Ribozyme
(c) Ribosomal
(d) Recognition
Question. Regarding to cilia and flagella which of the following statement is incorrect –
(a) Cilia is small and flagella is long
(b) Cilia can move either cell or surrounding fluid
(c) Flagella is responsible for movement of surrounding fluid
(d) Cilia work like oars
Question. The diagram below shows a cell cycle-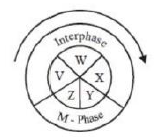 Which of the following process occurs during V?
(a) Replication of DNA
(b) Replication of centrioles
(c) Chromosomes condense and become shorter and thicker
(d) High metabolic rate and synthesis of proteins and cellular organelles
Question. How many of the given statements are incorrect?
A. Nucleolus and nuclear membrane disappear in prophase .
B. Synaptonemal complex formation occurs during zygotene.
C. The enzyme responsible for crossing over in pachytene is recombinase.
D. Chiasmata formation occurs in diakinesis
Options :
(a) One
(b) Two
(c) Three
(d) Four
Question. To study any kind of genetic abnormality arising due to change in chromosome number, the karyotype is prepared. Which of the following stages is most suitable to develop a karyotype?
(a) Metaphase
(b) Telophase
(c) Anaphase
(d) Prophase
Question. Disjunction is:
(a) Chromosomes separation during mitosis
(b) Chromosomes separation during prophase-I
(c) Chromosomes separation in anaphase-I
(d) Chromosomes separation during metaphase-I
Question. Which of the following organisms usually show mitotic divisions in both haploid and diploid cells?
(a) Animals
(b) Plants
(c) Both of these
(d) Prokaryotes
Question. Which of the following pairs of substances are found inside a mitochondrion?
(a) Single RNA molecule and 50s ribosomes
(b) Single DNA molecule and 50s ribosomes
(c) Single RNA molecule and 70s ribosomes
(d) Single DNA molecule and 70s ribosomes
Question. For successful replacement during tissue repair, the chromosome content of each daughter cell must be identical to that of the mother cell. Which stages of mitosis make sure that each daughter cell receives one chromatid from each chromatid pair?
(a) Prophase and Metaphase
(b) Metaphase and Anaphase
(c) Anaphase and G1 phase
(d) Telophase and Interphase
Question. Identify the cell division events happening in the these mammalian cells?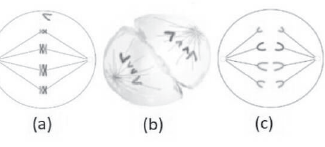 (a) a-Meiotic Metaphase I, b-Mitotic Anaphase, c-Meiotic Anaphase II.
(b) a-Mitotic Metaphase , b-Mitotic Anaphase, c-Meiotic Anaphase II.
(c) a-Mitotic Metaphase I, b-Mitotic Anaphase, c-Meiotic Anaphase I.
(d) a-Meiotic Metaphase II, b-Meiotic Anaphase I c-Meiotic Anaphase II.
Question. In lysosomes :
a. The acidic condition is maintained by pumping of protons to the exterior part.
b. Only extracellular digestion occurs.
c. Carbohydrates, proteins, lipids and nucleic acids present in cytoplasm can be digested.
d. The enzymes present, are belong to acid hydrolases.
Select those statements which are correct?
(a) c and d
(b) a and d
(c) a and b
(d) b and d
Question. Division of centromere is absent in-
(a) Anaphase of mitosis
(b) Anaphase-I
(c) Anaphase-II
(d) All of these