Sample Paper Class 12 Physical Education Term 1 Set B
Section – A
1. Which of these committees is headed by a qualified doctor?
(A) Reception
(B) Security
(C) First aid
(D) Lodging 
2. What is the height of the box used by boys in the Harvard step test?
(A) 16 inches
(B) 18 inches
(C) 20 inches
(D) 22 inches 
3. AAHPERD General Fitness test consists of:
(A) Pull-Ups Boys
(B) Sit-Ups (Flexed Leg), Boys and Girls
(C) Shuttle Run (Boys and Girls)
(D) All of these   
4. ____________ refers to the movement involving large muscles such as arms, legs or entire body.
(A) Development
(B) Motor development
(C) Gross motor development
(D) Fine motor development   
5. Which of these is not a component of the motor fitness test?
(A) Agility
(B) Balance
(C) Coordination
(D) Endurance   
6. _______ the success rate is the foremost objective of planning.
(A) Maintaining
(B) Improving
(C) Reducing
(D) Removing
7. There is no prominent evidence that an additional amount of _________ improves the performance.
(A) Fats
(B) Minerals
(C) Vitamins
(D) Water   
8. Which of these activities immediately precedes Sit and Reach Test?
(A) Cooling-down
(B) Warming-up
(C) Warming-down
(D) Cooling-up   
9.
The fixture shown in the picture indicates the structure of ___________ tournament.
(A) League
(B) Knockout
(C) Ladder
(D) Combination 
10. Which of these physical components is measured with the help of Back stretch test?
(A) Overall Speed
(B) Upper body Flexibility
(C) Lower body Power
(D) Whole body Movement 
11. The Eight Foot Up and Go Test requires ____________ as a mandatory equipment.
(A) Shoes
(B) Stopwatch
(C) Walking stick
(D) Obstacles   
12. ______________ is a committee which functions during the entire length of the tournament.
(A) Publicity committee
(B) Reception committee
(C) Awards committee
(D) Transport committee   
13. What is the foremost objective of planning?
(A) Maintaining rate of success
(B) Improving rate of success
(C) Reducing rate of success
(D) Removing rate of success 
14. Which of these food compone nts is present in sugar?
(A) Fats
(B) Protein
(C) Vitamin
(D) Carbohydrate    
15. What is the other name of the Law of Acceleration?
(A) Law of Inertia
(B) Law of action and reaction
(C) Law of momentum
(D) Boyle's Law   
16. _______________ refers to the fibre present in the food which helps to eliminate wastes from the body.
(A) Carbohydrates
(B) Vitamins
(C) Roughage
(D) Minerals   
17. What is the name given to the movement involving large muscles such as arms, legs or entire body?
(A) Development
(B) Motor development
(C) Gross motor development
(D) Fine motor development   
18. Vitamin ________ makes teeth and bones strong.
(A) A
(B) B
(C) C
(D) D   
19. Which type of strength is measured by Arm Curl Test?
(A) Upper body strength
(B) Lower body strength
(C) Limb strength
(D) Head strength   
20. In a knockout tournament, 19 teams are participating. What will be the total number of matches played during this tournament?
(A) 17
(B) 18
(C) 19
(D) 20   
21. According to Newton's Third Law of Motion, to every action, there is an __________ and __________ reaction.
(A) Same, Parallel
(B) Opposite, Same
(C) Equal, Opposite  
(D) None of the above   
22. __________ is called the procedure of arranging teams in a systematic order.
(A) Tournament
(B) Fixture
(C) Seeding
(D) Bye   
23. Which of the following is a macro mineral?
(A) Iodine
(B) Iron
(C) Copper
(D) Calcium   
24. "A body at rest will remain at rest and a body in motion will remain in motion at the same speed and in the same direction unless acted upon by an external force". Identify the law of motion which states the above mentioned line.
(A) Law of Acceleration
(B) Law of Reaction
(C) Law of Gravitation
(D) Law of Inertia   
Section – B
25. When was AAHPERD Youth Fitness Test revised?
(A) 1972
(B) 1976
(C) 1988
(D) 2002   
26. _____________ refers to a movement that increases the angle between two body parts.
(A) Abduction
(B) Adduction
(C) Flexion
(D) Extension   
27. 600-yard run/walk is conducted to test
(A) Speed
(B) Flexibility
(C) Endurance
(D) Agility   
28. Match List-I with List-II and select the correct answer from the codes given below: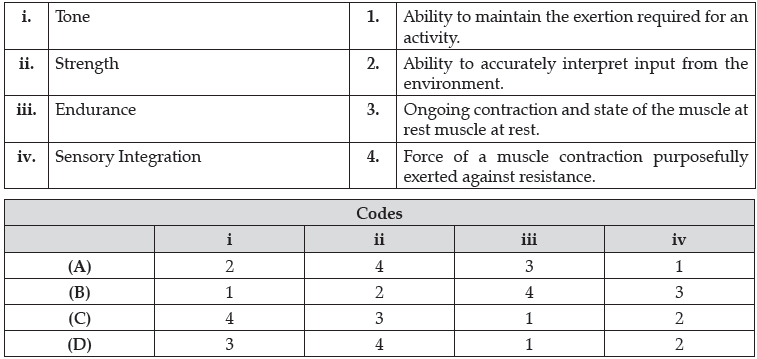 29. Identify the movement towards the midline.
(A) Abduction
(B) Adduction
(C) Flexion
(D) Extension   
30. How many forms are there for the Harvard Step Test?
(A) 1
(B) 2
(C) 3
(D) 4   
31. Match the names of the committees in Col I with their responsibilities in Col II.
32. If 32 teams will play in a knockout tournament, calculate the total number of matches in 3rd round.
(A) 3
(B) 2
(C) 4
(D) 5   
33. __________ is a large contest of many rounds among various teams.
(A) Tournament
(B) Match
(C) Fixture
(D) Bye     
34. No bye is given in which of the following method?
(A) Staircase
(B) League
(C) Round Robin
(D) Combination   
35. To avoid careless mistakes under pressure and to achieve the goals, _____________ should be more valuable.
(A) Planning
(B) Staffing
(C) Supervision
(D) Budgeting   
36. Given below are two statements, one labelled as Assertion (A) and the other as Reason (R).
Assertion (A): Planning is goal-oriented.
Reason (R): Sports planning does not aim at conducting sports events.
In the context of the above two statements which one of the following is correct?
(A) Both Assertion (A) and Reason (R) are true, and Reason (R) is the correct explanation of Assertion (A).
(B) Both Assertion (A) and Reason (R) are true, but Reason (R) is not the correct explanation of Assertion (A).
(C) Assertion (A) is true, but Reason (R) is false.
(D) Assertion (A) is false, but Reason (R) is true. 
37. The movement that increases the angle between two body parts is called _____________.
(A) Abduction
(B) Adduction
(C) Flexion
(D) Extension   
38. Picking of coins or bits of paper with foot and placing in a tumbler helps in correcting _________________.
(A) Knock Knees
(B) Flat Foot
(C) Scoliosis
(D) Kyphosis 
39. The asana shown in this picture helps in correcting the postural deformity of Bow Legs. Identify the asana and choose the correct option.
(A) Garudasana
(B) Bhujangasana
(C) Ardhmatsyendrasana
(D) Tadasana   
40. Identify the test battery depicted in the picture.
(A) Partial Curl-up
(B) Partial Push-up
(C) Partial Knee bend
(D) Partial Kyphosis   
41. This is Sit and Reach Test. It belongs to the test titled as ___________________.
(A) Harvard Step Test
(B) AAHPERD
(C) Rikli And Jones Test
(D) General Motor Ability Test 
42. Which physical factor is tested using this running structure?
(A) Strength
(B) Flexibility
(C) Aerobic Endurance
(D) Upper Body Flexibility   
43. Refer to the image given below. ______________ is the test which describes the picture.
(A) Rikli and Jones Senior Citizen Test
(B) AAHPERD
(C) Harvard Step Test
(D) General Motor Ability Test   
44. One of the factors affecting motor skills is postural _________________.
(A) Disorders
(B) Disabilities
(C) Deformities
(D) Disease 
45. The _____________ trunk and arm controls are mastered before the coordination of hands and fingers.
(A) Head
(B) Neck
(C) Foot
(D) Eye   
46. Certain diseases can be prevented by proper _____________.
(A) Medication
(B) Treatment
(C) Exposure
(D) Immunization 
47. _______________ is not a spinal curvature deformity.
(A) Kyphosis
(B) Scoliosis
(C) Lordosis
(D) Flatfoot   
48. _________________ is also known as round robin tournament.
(A) League
(B) Consolation
(C) Combination
(D) Challenge 
Section – C
49. The teachers, as well as coaches, always make their best efforts to improve the performance of their students in various competitive games and sports. They can help to improve the performance of students if they have adequate knowledge of biomechanics.
The more force one exerts on the downward bounce, the higher the ball bounces into the air.
Which law is this statement being referred to?
(A) Newton's 1st law
(B) Newton's 2nd law
(C) Newton's 3rd law
(D) Law of gravitation   
50. Sohan, a new student in the school was very much interested in taking part in the school sports events. He was taught the latest rules and regulations of a football game. In due course, he learned biomechanical aspects of the game including various movements.
The type of movement in which the angle between joints decreases is called
(A) Flexion
(B) Extension
(C) Gliding
(D) Sliding   
51. Mr. Anil , aged 63 years worked as a civil engineer in a construction company. He had to walk and climb a lot as part of his job. After retirement, he settled with his son spending time with his grandchildren.
Nowadays he is experiencing difficulty in doing certain chores which involve physical movement.
Which of the following tests would you recommend to check Mr. Anil fitness?
(A) Harvard Step test
(B) Rikli and Jones test
(C) AAHPERD test
(D) Rock Port test   
52. Sumit was told by the doctor that he must focus on the development of a particular part of the body.
He showed him these two pictures. Both the tests shown in the picture are conducted to check ______________ fitness.
(A) Muscular
(B) Skeletal
(C) Cardiovascular
(D) Respiratory
53. Rajesh went to an old age home on the occasion of his birthday. At that time all the inmates in the home were assembled in one place. When he enquired, they replied that they have a physical fitness test.
Give any one standard physical fitness test for senior citizen
(A) Push ups
(B) Standing Broad jump
(C) Zig zag run
(D) Eight foot up and go test 
54. Sports Minister, Mr. Kiren Rijuju has launched many sports schemes in India. Among these, one of the best schemes is Khelo India. Mr. Kannan, father of Kartik approached the PE teacher and enquired about the fitness levels of the students. PE teacher replied that Khelo India consisted of physical fitness tests for school children and they were analysing students' fitness through these tests.
To measure Lower body flexibility fitness, which one of the following is the best?
(A) Harvard Step Test
(B) Sit and reach test
(C) Barrow fitness test
(D) General fitness test 
55. Mahesh, Physical Education teacher at XYZ School observed that Raju a student of class VI has an outward curve of the vertebral column at the Thoracic region. He suggested some exercises to rectify this problem. What is this deformity known as?
(A) Scoliosis
(B) Kyphosis
(C) Lordosis
(D) Flat foot 
56. Padma, a student of class XII, used to read books in the school library. One day she was studying the history of women's participation in Indian Sports and felt that more girls and women must be encouraged to actively participate in sports. She believed that impossible things can be achieved through participating in sports. In which year did women first participate in the Olympics?
(A) 2000
(B) 1900
(C) 2012
(D) 1947   
57. Posture plays a very significant role in our daily activities. Correct posture means the balancing of the body in an accurate and proper manner. Various types of postural deformities can be identified in individuals.
From the above given picture, the deficiency of _________ causes the deformity seen on the left most.
(A) Iron
(B) Calcium
(C) Vitamin D
(D) Both (B) and (C)   
58. Sheetal spent her weekend checking the health status of all the security guards of her huge gated community as a part of the project work assigned by PE teachers. She found out that more than half of them have shown a significant deformity in the upper part of their vertebral column.
The term used to define this deformity is _________
(A) Lordosis
(B) Scoliosis
(C) Kyphosis
(D) Both (A) and (B)   
59. Shruti, a student of class XI is struggling with Obesity due to which she has low self esteem and low confidence. As a result, she has started dieting to control her weight. But this dieting program is self designed and lacks knowledge about nutrition.
As a physical education student what do you feel will be the pitfalls of this dieting plan?
(A) Extreme weight loss
(B) Dehydration
(C) Deficiency of essential nutrients
(D) All of these   
60. Rahul, a student of class XII, has recently joined a gym near his house to get a toned and muscular body. He consults his gym trainer regarding his diet and is advised to increase the intake of protein in his diet. Proteins are also known as _______________
(A) Nitrogenous food
(B) Body building food
(C) Fatty food
(D) Both (A) and (B)