MCQs for Chemistry Class 11 with Answers Chapter 14 Environmental Chemistry
Students of class 11 Chemistry should refer to MCQ Questions Class 11 Chemistry Environmental Chemistry with answers provided here which is an important chapter in Class 11 Chemistry NCERT textbook. These MCQ for Class 11 Chemistry with Answers have been prepared based on the latest CBSE and NCERT syllabus and examination guidelines for Class 11 Chemistry. The following MCQs can help you to practice and get better marks in the upcoming class 11 Chemistry examination
Chapter 14 Environmental Chemistry MCQ with Answers Class 11 Chemistry
MCQ Questions Class 11 Chemistry Environmental Chemistry provided below have been prepared by expert teachers of grade 11. These objective questions with solutions are expected to come in the upcoming Standard 11 examinations. Learn the below provided MCQ questions to get better marks in examinations.
Question. Carbon monoxide, emitted by automobiles, prevents transport of oxygen in the body due to
(a) combining with oxygen to form carbon dioxide
(b) destruction of haemoglobin
(c) preventing reaction between oxygen and haemoglobin
(d) formation of stable compound with haemoglobin
Question. Increased UV radiations due to hole in ozone layer
(a) will cause increase in cases of skin diseases
(b) will cause more ice to melt
(c) will cause summer to be more warmer
(d) will cause more rain
Question. Which of the following is not a pollutant?
(a) Carbon monoxide
(b) Sulphur trioxide
(c) Sulphur dioxide
(d) Nitrogen peroxide
Question. Which of the following is not considered to be a pollutant?
(a) NO2
(b) CO2
(c) O3
(d) SO3
Question. Main pollutant from automobile exhaust is
(a) CO
(b) CO2
(c) NO
(d) hydrocarbons
Question. Which of the following pollutants is not emitted during volcanic eruptions?
(a) SO2
(b) H2S
(c) Hydrocarbons
(d) CO
Question. Ozone hole is maximum over
(a) India
(b) Pakistan
(c) Australia
(d) Antarctica
Question. The gas leaked from a storage tank of the Union Carbide Plant in Bhopal gas tragedy was
(a) methylamine
(b) phosgene
(c) ammonia
(d) methyl isocyanate
Question. The lowest layer of earth's atmosphere is
(a) troposphere
(b) mesosphere
(c) stratosphere
(d) ionosphere
Question. Lead pollution is mainly caused by
(a) sewage
(b) insecticide
(c) coal gasoline
(d) None of these
Question. Which of the following statements is false?
(a) London smog is oxidising in nature
(b) London smog causes bronchitis
(c) London smog is formed in winter
(d) London smog contains H2SO4 droplets
Question. Ultraviolet radiation is absorbed by
(a) exosphere
(b) ionosphere
(c) mesosphere
(d) stratosphere
Question. The smog is essentially caused by the presence of
(a) O2 and O3
(b) O2 and N2
(c) oxides of sulphur and nitrogen
(d) O3 and N2
Question. Which of the following protects life on earth from harmful effects of UV radiations from sun?
(a) N2
(b) CO2
(c) O2
(d) O3
Question. Pollutants released from iron and steel industry are
(a) CO2 , NO2 , H2S
(b) CO , CO2 , SO
(c) CO2 , SO3 , NO2
(d) CO2 , NO, SO3
Question. SO2 causes
(a) respiratory and lung disease
(b) acid rain
(c) corrosion of building materials
(d) All of the above
Question. Ozone has the ability to absorb
(a) UV radiations
(b) electromagnetic radiations
(c) CFC
(d) greenhouse gases
Question. Identify the incorrect statement from the following.
(a) Oxides of nitrogen in the atmosphere can cause the depletion of ozone layer
(b) Ozone absorbs the intense ultraviolet radiation of the sun
(c) Depletion of ozone layer is because of its chemical reactions with chlorofluoroalkanes
(d) Ozone absorbs infrared radiations
Question. Persons working in cement plants and limestone quarries are more prone to disease like
(a) asthma
(b) cancer
(c) silicosis
(d) pneumoconiosis
Question. In Antarctica, ozone depletion is due to the formation of
(a) chlorine nitrate
(b) peroxyacetyl nitrate
(c) SO2
(d) SO3
Question. Which of the following is not a greenhouse gas?
(a) Methane
(b) Carbon dioxide
(c) CFCs
(d) CH3Br vapour
Question. Fish die in water-bodies polluted by sewage is due to
(a) pathogens
(b) reduction in oxygen
(c) foul smell
(d) None of these
Question. Which one of the following is not a common component of photochemical smog?
(a) Ozone
(b) Acrolein
(c) Peroxyacetylnitrate
(d) Chlorofluorocarbons
Question. Eutrophication of a lake means it
(a) is low in nutrients
(b) is high in nutrients
(c) has excess amount of organic matter
(d) has a high temperature
Question. Which of the following statements is wrong?
(a) Polar stratospheric clouds (PSCs) are clouds formed over Antarctica
(b) Acid rain dissolves heavy metals such as Cu, Pb, Hg and Al from soil, rocks and sediments
(c) H2SO4 is major contributor to acid rain, HNO3 ranks second and HCl third in this respect
(d) Fishes grow in warm as well as in cold water
Question. The ozone layer forms naturally by
(a) the interaction of CFC with oxygen
(b) the interaction of UV radiation with oxygen
(c) the interaction of IR radiation with oxygen
(d) the interaction of oxygen and water vapour
Question. Ozone depletion in the stratosphere is mainly caused by
(a) SO2
(b) NO2
(c) NO
(d) chlorofluorocarbons
Question. When rain is accompanied by a thunderstorm, the collected rain water will have a pH value
(a) slightly lower than that of rain water without thunderstorm
(b) slightly higher than that of rain water when the thunderstorm is not there
(c) uninfluenced by occurrence of thunderstorm
(d) which depends on the amount of dust in air
Question. Which of the following does not cause water pollution?
(a) Heavy metals such as Cd, Pb, Hg
(b) Detergents
(c) Polychlorobiphenyls
(d) Freons
Question. Acid rains are produced by
(a) excess NO2 and SO2 from burning fossil fuels
(b) excess production of NH3 by industry and coal gas
(c) excess release of carbon monoxide by incomplete combustion
(d) excess formation of CO2 by combustion and animal respiration
Question. Environmental pollution affects
(a) biotic components
(b) human beings only
(c) plants only
(d) biotic and abiotic components of environment
Question. Oxidation of sulphur dioxide into sulphur trioxide in the absence of a catalyst is a slow process but this oxidation occurs easily in the atmosphere. Which substance here catalyse the reaction?
(a) Oxygen
(b) Particulate
(c) UV rays
(d) IR rays
Question. What is DDT among the following?
(a) Greenhouse gas
(b) A fertiliser
(c) Biodegradable pollutant
(d) Non-biodegradable pollutant
Question. Which of the following practices will not come under green chemistry?
(a) If possible, making use of soap made of vegetable oils instead of using synthetic detergents
(b) Using H2O2 for bleaching purpose instead of using chlorine based bleaching agents
(c) Using bicycle for travelling small distances instead of using petrol/diesel based vehicles
(d) Using plastic cans for neatly storing substances
Question. Which of the following statements about photochemical smog is wrong?
(a) It has high concentration of oxidising agents
(b) It has low concentration of oxidising agents
(c) It can be controlled by controlling the release of NO2, hydrocarbons, ozone etc
(d) Plantation of some plants like pinus helps in controlling photochemical smog
Question. Mottling of teeth is due to the presence of which of the following element in drinking water?
(a) Mercury
(b) Fluorine
(c) Boron
(d) Chlorine
Question. Identify the incorrect statement in the following.
(a) Chlorofluorocarbons are responsible for ozone layer depletion
(b) Greenhouse effect is responsible for global warming
(c) Ozone layer does not permit infrared radiation from the sun to reach the earth
(d) Acid rain is mostly because of oxides of nitrogen and sulphur
Question. BOD is
(a) waste decomposed in 5 days
(b) oxygen used in 5 days
(c) microorganisms killed in 5 days
(d) dissolved oxygen left after 5 days
Question. Which of the following statements about polar stratospheric clouds (PSCs) is not correct?
(a) Type I clouds are formed at about −77°C and contain solid HNO3 3H2O
(b) Type II clouds are formed at about −85°C and contains some ice
(c) A tight whirlpool of wind called polar vortex is formed which surrounds Antarctica
(d) PSCs do not react with chlorine nitrate and HCl
Question. The basic component of smog is
(a) PAN
(b) PBN
(c) NO2
(d) All of these
Question. Sewage water is purfied by
(a) microorganism
(b) fishes
(c) aquatic plants
(d) All of these
Question. Sewage containing organic waste should not be disposed in water-bodies because it causes major
water pollution. Fishes in such a polluted water die because of
(a) large number of mosquitoes
(b) increase in the amount of dissolved oxygen
(c) decrease in the amount of dissolved oxygen in water
(d) clogging of gills by mud
Question. Which of the following statements is false?
(a) The main reason for river water pollution is industrial and domestic sewage discharge
(b) Surface water contains a lot of organic matter, mineral nutrients and radioactive materials
(c) Oil spill in sea water causes heavy damage to fishery
(d) Oil slick in a sea water increases DO value
Question. Drawback of DDT as pesticides is that
(a) it is less effective than others
(b) it becomes ineffective after some time
(c) it is a non-biodegradable substance
(d) it is very costly
Question. For dry cleaning, in the place of tetrachloroethene, liquefied carbon dioxide with suitable detergent is an alternative solvent. What type of harm to the environment will be prevented by stopping use of tetrachloroethene?
(a) It results in tropospheric pollution
(b) It causes depletion of ozone layer
(c) It causes particulate pollution
(d) Both (a) and (b)
Question. Negative soil pollution is
(a) reduction in soil productivity due to erosion and over use
(b) reduction in soil productivity due to addition of pesticides and industrial wastes
(c) converting fertile land into barren land by dumping ash, sludge and garbage
(d) None of the above
Question. Average ozone concentration in Jakarta, Indonesia have been reported to be 0.015 mg m−3 and those in Tokyo, Japan are 20 ppmV. What is the approximate ratio of these two values, when expressed in the same unit?
(a) 1:0.3
(b) 1: 3
(c) 1: 33
(d) 1: 2
Question. Green chemistry involves
(a) production of chemicals of our daily use from green house gases
(b) such chemical processes in which green plants are used
(c) those reactions which are of biological origin
(d) use of non-toxic reagents and solvents to produce
Question. The pollutants which come directly in the air from sources are called primary pollutants. Primary pollutants are sometimes converted into secondary pollutants. Which of the following belongs to secondary air pollutants?
(a) CO
(b) Hydrocarbon
(c) Peroxyacetyl nitrate
(d) NO
Question. Water is treated with chlorine to
(a) increase oxygen content
(b) increase taste
(c) remove suspended particles
(d) kill germs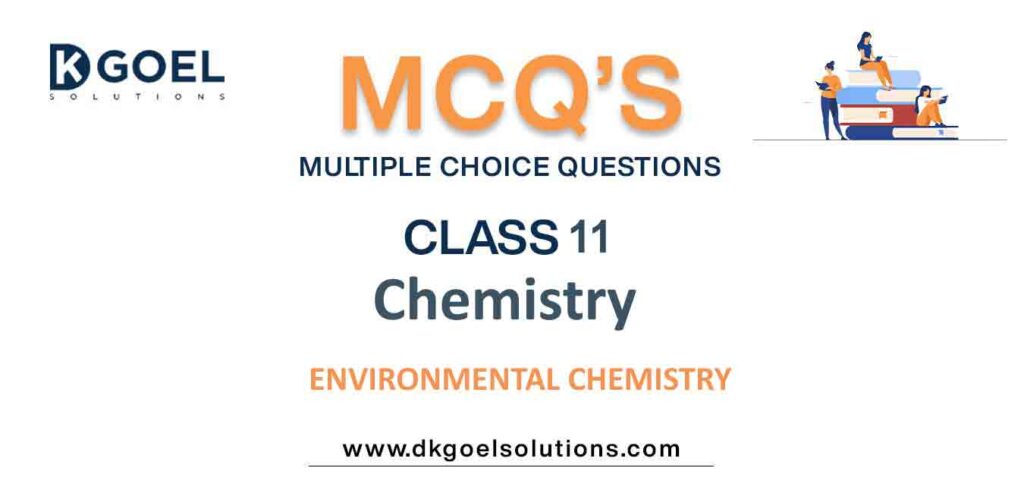 We hope the above multiple choice questions for Class 11 Chemistry for Chapter 14 Environmental Chemistry provided above with answers based on the latest syllabus and examination guidelines issued by CBSE, NCERT and KVS are really useful for you. Environmental Chemistry is an important chapter in Class 11 as it provides very strong understanding about this topic. Students should go through the answers provided for the MCQs after they have themselves solved the questions. All MCQs have been provided with four options for the students to solve. These questions are really useful for the benefits of class 11 students. Please go through these and let us know if you have any feedback in the comments section.