CBSE Class 12 Board Exam 2021 Latest News Live
Final Class 12 Evaluation Criteria for Board Exams
Due to the cancellation of the Board examinations, the assessment of the theory portion of 80/70/60/50/30 marks will be done by the school based on the following:
Class XII: Marks based on Unit Test/Mid-Term/Pre-Board Exam: 40 %
Class XI: Marks based on theory component of final exam: 30%
Class X: Marks based on average theory component of best three performing subjects out of main 5 subjects: 30%
The marks of Practical/Internal Assessment etc. of class-XII will be on actual basis as uploaded by the school on the CBSE portal.
The total marks awarded should be in consonance with the past performance of the school in Class-XII Board Examinations.
As marks of class XI and class XII component will be awarded at school level, they will strictly not be comparable across schools due to the variations in the quality of question papers, the evaluation standard and processes, the mode of conduct of exams etc.
Therefore, to ensure standardisation, each school will have to internally moderate the marks to account for the school level variations by using a reliable reference standard.
Students who are not satisfied with the assessment, done based on the policy will be given an opportunity to appear in examinations to be conducted by the board when conditions are conducive for holding the examinations. As per this policy, marks scored in later examination will be considered as final.
Circular issued by CBSE
CBSE has issued a circular today stating that the Class 12th assessment will be made as per the well defined objective criteria in a time bound manner. If any student is not satisfied with the assessment then option will be provided to the student to appear in the offline class 12th board examinations which will be conducted by CBSE as and when the situation is normal.
How will CBSE calculate marks of Class 12 Students: OPTIONS>
As per the latest announcement by the government of cancellation of Class 12th Board exams, the biggest challenge in front of CBSE is to set up the standard and come up with the plan to calculate the annual result of Class 12th so that the students have the maximum benefit and no student is at loss in this time of the pandemic. It can be a tricky process for CBSE as they have to take into consideration all the possibilities and limitation The plan should be such that it resolve and take care of one and all. There are several options in front of CBSE and various possibilities, we have listed some of them below for you to comment
There can be many options in front of CBSE, we have listed some of them below:
Option 1: Average marks of last 3 years: The average of marks obtained in Class 10, Class 11 and Class 12 (internal assessments) might be calculated. The final marks of Class 10 and 11 and internal assessment marks in Class 12 might be taken into consideration to calculate the average of the last 3 years.
Option 2: Marks obtained in Internal Assessment and Practicals in Class 12th, this option was discussed earlier too where marks obtained during various exams held in class 12th will be taken into consideration to calculate the final marks of Class 12th
Option 3: Average of Senior Secondary Marks (Class 11 and Class 12 internal assessment). To be sure the marks of only that stream which the student opted for after class 10th, it might be an option to just consider the average of Class 11th and Class 12th marks.
Option 4: Schools may hold internal online exams. The schools might be allowed to hold online exams and marks obtained by students in this internal online Class 12th final exam can be considered as final marks for students.
[yop_poll id="1″]
Class 12th Board Exams CANCELLED
Under the leadership of Prime Minister Mr Narendra Modi it was decided today that the examinations for class 12 have been scrapped and will not be done this year. This decision has been taken taking into account the covid station in India and also the interest and safety of the students. Further notice regarding cancellation of the exams and how the marks will be given to the students for this year is awaited and will be issued by CBSE. This has come as a big relief to the students as there was immense pressure on the government not to hold the examinations due to the safety of students.
Latest Updated relating to Class 12 Board Exams: CBSE Class 12 Board Exam 2021 Latest News Live
High Level CBSE meeting is now over
The government is right now assessing two options to conduct exams. They are considering to have exams only for main subjects and that too with reduced number of questions. The exams might be just for 1.5 hours with some short questions and MCQs. The decision is yet to be taken and datesheet to be released in June. Some states have said they are still not in favor of holding any exam till the COVID situation is completely normal.
Chhattisgarh Board of Secondary Education, CGBSE has taken decision to conduct the class 12 board exams from their home. Its understood that students can take the question papers from schools or centres allocated and do the question papers are home and submit the answers after specific days back to the centre.
Currently meeting to take decision on CBSE Class 12 exams 2021 is going on in which more discussion on other critical exams conducted by National Testing Agency (NTA) are also expected to be discussed. Since many exams like JEE and NEET were postponed. It will be decided how to hold these exams for the benefit of students.
It is expected that Class 12 students will be asked to do written examination only for major subjects like English, Hindi, Science, Social Science, Physics, Chemistry, Biology and few more only.
Date sheet for Class 12 Board Exams: CBSE Class 12 Board Exam 2021 Latest News Live
Date Sheet for Class 12 Board Exams is expected to be announced in early June, but it is also important to note that students will be given atleast 15 days notice before the first exam so that the students can prepare properly for the class 12 board exams
Manish Sisodia demands complete vaccination of all Class 12 students prior to exams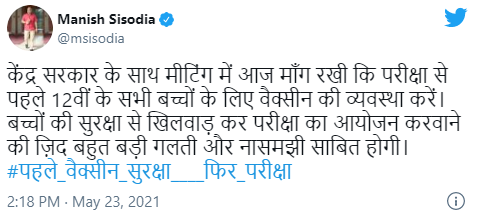 Priyanka Gandhi bats for cancelling Class 12 Board Exams
CBSE Class 12 major subjects for which the exams are expected to be held:
Biology
Chemistry
Physics
Mathematics
Business Studies
Geography
History
Biotechnology
Computer Science
Economics
Informatics Practices
Applied Mathematics
Political Science
Psychology
Sociology
Language Paper- 1 – Core
Language Paper-1 – Elective
Language Paper- 2 – Core
Language Paper- 2 – Elective
Honorable Union Cabinet Minister for Education, Government of India Dr. Ramesh Pokhriyal Nishank yesterday tweeted that a high-level meeting chaired by Mr. Rajnath Singh will be held on 23rd May. Currently, the high-level meeting is going on to discuss how to hold Class 12 Board Exams. Following is the tweet by the Minister of Education.